A lot of doctors and students are curious about knowing how they can join Pakistan Army as a doctor and usually it's hard for them to get the accurate and detailed info. Well to understand the exact procedure, lets clarify few terminologies and procedures related to doctors in Pakistan themselves. It may seem like a lengthy article, however all info shared here is important to be understood before you opt to join Pakistan Army as a doctor.
When can you apply in Army as a doctor?
Inductions are opened twice a year, almost in January and then in July. However please keep checking the recruitment centre and also official website: http://joinpakarmy.gov.pk/ as the months can change.
You can apply at:
During 4th year mbbs
Right after completing mbbs
After doing housejob (or during housejob too)
After passing part 1 exam
After passing part 2 exam of specialization (as a major)
If you're applying after mbbs, it's ideal to either join before housejob, right after mbbs or else apply once you have cleared the part 1 exam in the speciality of your choice.
When can you leave Army?
There is a common  misconception among people that they can leave army upon completion of their bond years. NO, they can NOT.
You have to serve for complete 24 years, even if you join army on any years bond.
For example if you joined via SSRC for 5 or 7 years bond, you can NOT leave after 5 or 7 years of service. You will have to complete the total 24 years service to be released from army.
People do get released from army by paying the fine or various other means, but that's not normal procedure.
As per normal procedure, all doctors are treated equal and in same boat, no matter how and for how many years bond they joined army.
So please keep in mind, once you decide to join army, there is no turning back.
Do Doctors remain in hospitals only?
No, they don't.
Doctors go to hospital only for housejob and for specialization training (mainly). Or once they clear part 2 then they get posted in CMH.
Duties of a Doctor in Pakistan Army
When in hospital, the major part of duty is to do the doctors usual stuff mainly.
When not in hospital, which makes a huge part of service, has duties like:
Giving medical cover at sports: Sitting at polo match, swimming pool, boxing match, PT tests, etc. while teams are playing to be available for any emergency.
Sanitary rounds: Checking soldier lines, washrooms, messes, overall unit hygiene etc, to see if soldiers are living in good hygienic conditions.
Medical cover in operations: Getting attached to operational area and be available in the location to provide any medical cover needed
Other covers: like being at helipad when helicopter takes off or lands, going with conveys in ambulance to be available for emergency, etc.
Do you get the training immediately if you join after clearing part 1?
No, you get the training at your turn. But the situation may vary from case to case.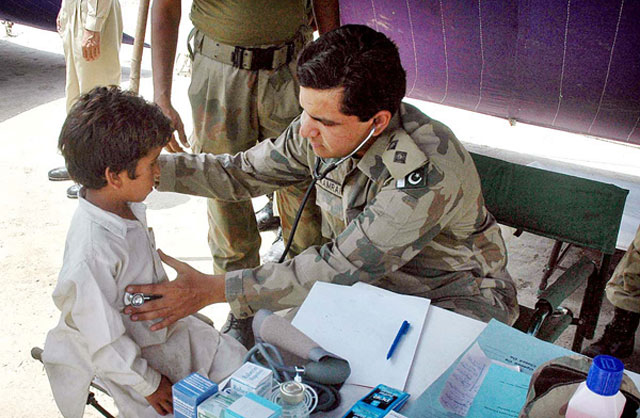 Specialisation for Doctors in Pakistan as Civilians vs. Army
Specialization is one of the main concerns for doctors. It's a lot different for civilian doctors and Army doctors. Civilian doctors get an early and more focused post graduate training in the specialty of their choice, while army doctors have to wait for years and also can't always get specialty of their choice.
Part 1 exam and specialization training for civil doctors
Specialization for civil doctors is a simple process. They complete their mbbs, do their housejob and then appear in the part 1 exam of their choice of specialty. If they clear the exam, they can simply start their postgraduate training in that specialty right from that day.
However the process isn't so simple in Pakistan Army. You'll have to first perform the housejob like civilian doctors, but once the housejob is done, you're not free to appear in the part 1 exam immediatly.
Part 1 exam and specialization training for Pakistan Army doctors
You have to wait for at least 2 years before appearing in part 1 exam after completing your mbbs. During these 2 years, army doctors complete their housejob and appear in "part 1 permission exam". Then the training begins once the part 1 exam has been cleared. It takes at least 2.5 years if you clear all exams in the first go, in the specialty where seats for trainees are available. However if you opt for rare specialty like dermatology or pathology, you may have to wait couple of years before you get permission for training.
What is part 1 permission exam in Pakistan Army?
Part 1 permission exam has been introduced by Army Medical Corps in 2015. Army doctors passing this exam are allowed to appear in part 1 exam next year, if their service is over 2 years by the end of December of current year.
Note that you can give part-1 in only first 7 years of your service (if some spec has acute shortage of trainees then that window can increase temporarily). After that you can not be a specialist.
Update: part-1 permission exam have been cancelled in Pakistan Army now. Now doctors only need to submit an application each year to get permission for next year.
Can you choose the specialty of your choice?
No, you can't always choose the specialty of your choice. However, if you choose the specialty in which there's already deficiency, you can get that easily, e.g. anaesthesia and surgery.
Doctors apply for part one permission by giving three specialities as choices and are given the permission in the one that requires most trainees.
Training in super specialty
Army does provide training in super specialties. However they have their own policies for that too. E.g., if you choose neuro surgery as a field for yourself, you'll first have to complete four years training in general surgery, pass the FCPS exam, serve as a surgeon, apply for neuro surgery training, get selected and then start neuro surgery training. While in civil, you simply complete the whole training in 5 years (2 years general surgery and 3 years neuro surgery).
So for super speciality training in Pakistan army medical corps, procedure goes like this:
Wait for part 1 permission
Give part 1 and pass it
Wait for training permission
Get posted to CMH and do training of first speciality (surgery or medicine)
Get posted out of hospital upon completion of training
Pass part 2 of first speciality
Get posted to CMH, serve as medical specialist or surgeon
Give army test for specialization (called classified specialist after passing it)
Apply for permission for private practice, and do private practice when allowed, in CMH only
Serve as the surgeon or medical specialist etc. in army
Apply for permission in super speciality (cardiology, neuro surgery, cardiothoracic surgery, etc.)
If given permission, wait for your turn for super speciality
Get training in your super speciality
You are no more allowed to do private practice or work as the first speciality as you're now a trainee of another speciality
Complete the training, give part 2 of second speciality
Yes this take a lot more than mere 5 years like it does in civil.
FCPS vs. MCPS in Pakistan Army
FCPS, FRCS, and similar degrees are considered as proper specialties in Pakistan Army and you can join directly as a Major if you apply after passing exams in them. However MCPS and related degrees are taken as a Captain.
What is GDMO?
GDMO stands for General Duty Medical Officer. Anyone who is not serving as a specialist is a GDMO in Pakistan Army. Even specialists can work on GDMO roles in certain situations.
What does a GDMO do?
GDMO has both doctor related and administration related roles. Hospital related ones include housejob, MI room, medical covers, etc. Administration roles include being part of medical battalion and follow unit routines and also CMH administrations.
GDMO can also take flight surgery and deep sea diving doctor short courses of few months. This helps them go abroad on deputation too with a handsome package.
Can GDMO do private practice?
No a GDMO isn't allowed to do private practice in Pakistan Army.
Can a specialist doctor do private practice?
A specialist in Army can do private practice only after permission. Once permitted, he can only do the private practice in the same CMH where he is posted and a share of income generated goes to CMH fund (almost 40%).
What's the highest rank a doctor can achieve?
The highest rank a doctor can achieve never ends; he can become a specialist, a super specialist, or can be the saviour of humanity without specializing too.
Regarding Army ranks, highest rank they've achieved till now is lieutenant General and are called Surgeon General.
What's the starting rank of doctors in Pakistan Army
Specialists (FCPS, FRCS, etc.) are inducted directly as Major.
Doctors who've completed MBBS and no specialisation or MCPS, etc. are inducted as a rank of Captain.
What is the pay of Army doctors?
In Pakistan Army, the pay of doctors is based on their ranks and is similar to non-doctor officers of similar rank + non-practicing allowance (NPA) which is almost 4,000 PKR.
The pay of Captain starts around 50,000 PKR while that of a Major around 60,000.
Are inducted doctors treated same as AMCOLIANS?
Amcolians (from amcol: army medical college) are the graduate of army medical college who study mbbs while being cadets in uniform too.
Yes, there is no difference what so ever among the amcolians and the civil inductees as commissioned officers. All the career and duties are same and no way to differentiate apparently regarding duties, privileges, authorities and responsibilities.
Operational Covers
Doctors are deployed in operational area along with non-doctor troops on the front line. There is no maximum time duration specified for which a doctor can be deployed in ops area and can extend to years and vary depending upon his career progress and Army requirements.
UN missions
Doctors easily get deployment for UN missions where they serve as UN Army members in areas where UN forces are deployed e.g. Somalia, Ivory coast, Sudan, etc. Package is good but not as good as of Saudia (which comes if you do the flight surgery course).
Doctors get UN mission after 3-5 years of their service.
Note that you can not go to UN mission if you have passed part-1 exam.
Also note that if you are sent on UN mission, your chances of getting permission for part-1 exam after that get low.
When can an army doctor get married?
Sometimes there is confusion that Army allowed married doctors to join or not. And When can an army doctor marry? Does he need to wait few years before getting married? Well all these are mere speculations and there is no such rule.
Army allows both single and married doctors to apply after mbbs. (You need to be single only if you're applying in army after FSc or equivalent).
Also, there is no restriction or years required before an army officer can marry. You can marry as soon as you become an officer too.
Selection procedure to join Pakistan Army as a doctor
Once you've submitted the form for joining Pak Army as a GDMO, you'll get a call for online test. This includes IQ test, Intelligence test (verbal and non verbal), academic test (mbbs related), personality test. These tests (other than mbbs part) are simple as they're designed for average FA pass youngsters applying for long course through issb and can easily be covered from the same preparation books that are used for long course issb (e.g. issb by dogar sons).
Once you pass the test, you're called next day for detailed psychology test in which you are assessed thoroughly.
There are only these 2 days of ISSB for doctors when they join Pakistan Army. There is no physical test. However a routine medical is performed in which their height, weight, eye sight, etc. are checked.
Those who're selected through this process get a call letter for a final interview and if selected by the panel, they receive the call letter for Basic Military Training (BMT) in AMC S & C (Army Medical Corps School & Center), on Kakul road, near PMA, Abbottabad. Training for SSC (short service commission) is of 22 weeks usually.
Why is specialization so difficult in Pakistan Army?
Many people ask why specialization is difficult in Pakistan Army. And super speciality specialization is even more difficult and has rules which are not applicable all over Pakistan in civil setup.
Well the answer is that Army provides seats for what it needs. They're not a medical college or medical setup. They train people for what they need. If they need more surgeons, they will make surgery specialisation easy, if they want more neurosurgeons, they will make that speciality easy.
Pakistan Army needs a lot of GDMO's for field duties and for routine work, which is mostly outside hospitals. So if you don't crave much for specialisation and are happy being a GDMO for more years than your civil counter parts, then you won't find the rules difficult.
Perks, Privileges, Responsibilities and Authorities of Army doctors
Perks, privileges, responsibilities and authorities of Army doctors are the same as non-doctor officers of the same rank.
Questions regarding joining Pakistan Army as a Doctor?
We've tried to clarify a lot of concepts about joining Pakistan Army as a doctor and elaborate all the frequently asked questions regarding joining Pak Army as a GDMO. If you've any query related to joining Pakistan Army as a doctor, please let us know so that we can explain and include it in this article too.