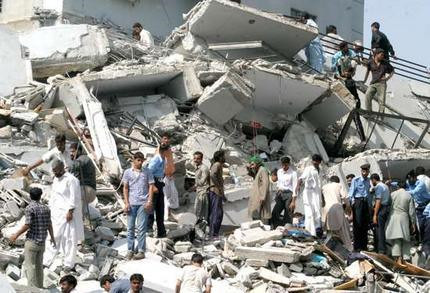 Today (26 October at 2:09 pm) in Pakistan a strong earthquake measuring 8.1 on Richter scale struck. Earthquake start from "Kabul" and "New Delhi" and also affected many cities in Pakistan like Islamabad, Lahore, Peshawar, Rawalpindi, Quetta, Sargodha, Kohat and Malakand. The shocks however were felt throughout the country, including Karachi and Chitral.
According to United States Geological Survey "The Quake was 196 km deep and centered 82 km south east of feyzabad in a remote area of Afghanistan in the Hindu Kush mountain range" and the intensity was 7.5. Meteorological Department of Pakistan said "the magnitude of earthquake was 8.1". The communication services also disturb due to earthquake. It has reported that Peshawar buildings collapsed.
Chief of Pakistan army staff take personal action to rescue earthquake affected people and he has gone Peshawar because in Peshawar the situation is very sensitive and COAS guided Pakistan army to begin rescue operation quickly. Pakistan Army rescue teams have rescued 50 stranded tourists in Naran. Govt of Pakistan also take action to secure the people and all organizations provides help in this tough time.
According to National Disaster Management Authority "the earthquake aftershocks are possible in next 24 hours in Pakistan. 12 aftershocks have come at that time which range was 3.1 to 5.
10 years before earthquake came on (8 October 2005) which range was 6 to 7 but today earthquake range was very highest in the history of Pakistan earthquakes. Peshawar city effected badly and many deaths are counted there. According to present media reports Overall in Pakistan more than 1000 thousand people injured and more than 200 deaths.