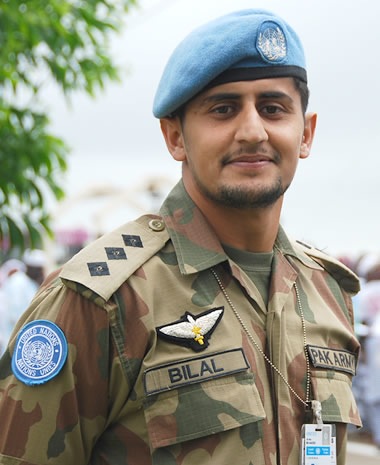 Captain Bilal was very brave officer. He was born on 2 February 1982 in Rawalpindi. He got early education from st Paul's Cambridge school and further studies from postgraduate college Rawalpindi.
He belongs to military background, his father (zafar tajamul) is retired captain from army and grandfather (Lal khan) was subedar who received "st George's cross" during 1st world war.
In 2001 he joined Pakistan army and got commissioned into "42 baloch regiment (Al-Havi)" on 12 October 2003, after that he joined SSG.
"Rah.e.rast" operation started in swat district where SSG started an operation "janbaz" for clear the swat valley from militants and his company takes task to clear the swat-Peochar road. During operation he embraced martyr on 17 May 2009 and he buried in native village kehror kotli sattian on 18 may 2009. Government of Pakistan gives him sitara.e.basalat on 62nd Independence Day of Pakistan. The service period was from 2003 to 2009.